Need a realistic Polar Bear for your next shoot?
We've got you covered. 
Nanuq is perfect for any occasion requiring a Polar Bear…
…And it's a lot less dangerous than the real thing!
Is Nanuq what you're looking for? 
Stands at 6'3 (190cm)

Super soft fur and paws

Realistic animated jaw and positionable ears for a range of expressions

2-Legged version for a semi-human, mascot-like appearance.

4-Legged version for a more realistic, natural appearance.

Ability to enhance with CGI animation (If desired!)
PLUS:
Quick turnaround available for clients in following locations: Atlanta, Miami, Chicago, Orlando, New York City, Albuquerque, Wilmington North Carolina, New Orleans, Austin, Seattle, Denver, Minneapolis, Los Angeles. [Outside of the US] Toronto, Montreal, Vancouver, Mexico City MX.
For other locations, please contact us to discuss availability
To help you get the most out of Nanuq, when you choose our Polar Bear Costume, we also provide you with a specialist performer and assistant*
This ensures you get exactly what you want from our Polar Bear, so you can concentrate on the rest of your shoot/event!
Nanuq is perfect for all your TV, Film, Marketing and other event needs!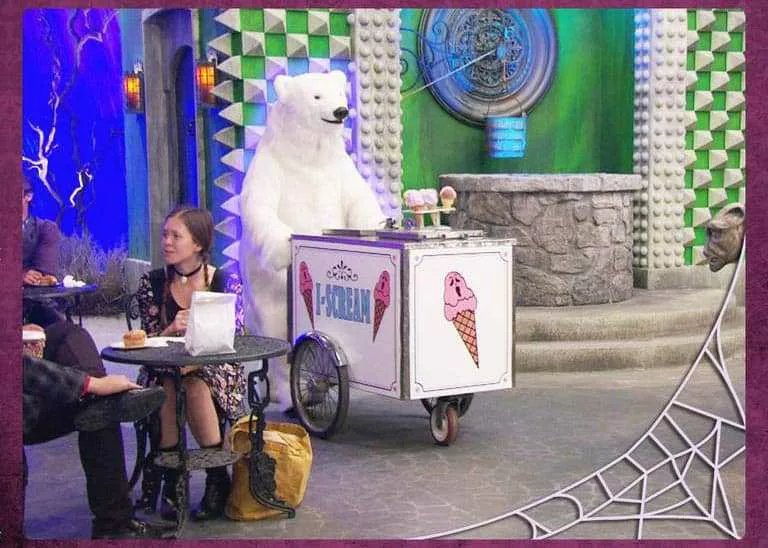 Think you've found what you're looking for?
Get in touch and tell us about your project! We'll see how we can help you!
Contact Us Today
Soft Drink Commercial 'Didi Cay'
What better way to emphasize a thirst quenching drink than with a polar bear in the desert!
Dijital Yapımevi Production House of Istanbul, Turkey approached us to help produce a TV advert for their client, Didi Cay Soda.  
Bringing a realistic Polar Bear and performing in the Egyptian desert might seem like a very daunting task – but we came prepared!
Armed with a great team of assistants that could help us reset scenes quickly, we  kept our specialist performer in peak condition in the desert heat. 
It certainly made for an interesting filming experience that we won't forget! 
Appearance on Nickelodeon's "The Haunted Hathaways"
Nickelodeon's TV series "The Haunted Hathaways" had an upcoming episode which called for an ice cream selling bear…
…And Nanuq was more than happy to oblige!
This was one of Nanuq's first projects – the costume was brand new to the AnimatronicBear Family at the time! 

We have provided our performing bears to multiple Nick projects including 2012's "A Fairly Odd Christmas". Thanks to Dionne, Nikki, Jonathan and the rest of the team for a fun project!!
Appearance on Lidl's "Beautifully Normal – 2017 Christmas Advert" 
"We all know that Christmas is never really like this. Come on, a pony and a polar bear? It's time we did Christmas our way!"
This was a great scene for Nanuq in a shoot filled with fun out in Berlin.
We know what you're thinking.
Yes. The pony was real.
Fortunately it did not seem too concerned by our polar bear! 
However, it certainly was not as well trained and paid no attention to the director throughout the shoot! 
*Please note that our Realistic Polar Bear Costume comes as a PACKAGE: Nanuq is ONLY available with our trained professional operators.
Is Nanuq the bear for the job...
Get in touch and tell us about your project! We'll see how we can help you!
Contact Us Today