Introducing: Beringar the quadrupedal black Bear!
"Beringar" is a black bear costume that walks on all fours. With internal cable controlled mouth open/close, Beringar is ideal for recreating nature footage. 
Video Note: Only the scenes with the Bear walking on 4 legs is Beringer. The other Bear in this shoot has since been recycled and is now available for hire as Bronson.
Beringar is accompanied with a trained professional ensuring the very best performance for your project.
Interested in hiring Beringar?
Please contact us to discuss how we can help you with your project!
Contact Us Today
Wild Blueberries Featuring Beringar & Bronson.
Bears Discover Fire 
All fours "Walking Bear" for short film "Bears Discover Fire". (Info: https://www.bearsdiscoverfire.com) Directed by Ben Leonberg & Produced by Scott Riehs
SYNOPSIS: Bobby, a middle-aged outdoorsman living on a lonely farm, looks after his young sheltered nephew for the weekend. Meanwhile, bears discover fire – causing a remarkable series of events for Bobby's family in this sci-fi dramedy set in rural America. Based on the short story by Terry Bisson.
FUN FACTS: BDF was the Grand Prize Winner of the KIN x DUST Sci-Fi Short Film Competition. We supplied 8 faux bears to the production (the real hide bear suit "torch bearer" was created by Chuck Testa of Ojai Taxidermy.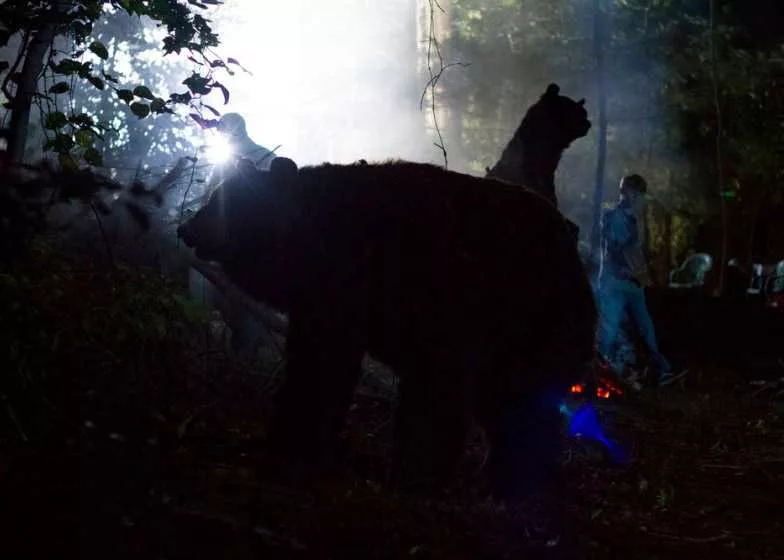 Rock N Roll (Official Music Video)
Director Chris Marrs Piliero had created a comic book style music video concept which required a Motherplucking "bear-shark" to battle his heroine and we were fortunate to be tapped! Beringar lost his head for Avril Lavigne in this totally fun project shot in the desert outside of Los Angeles with co-stars Danica McKellar and Billy Zane.
Roy Knyrim and his SOTA FX Studio created the practical shark head which was animation enhanced in post. Special thanks go to Chris and his team for one of my most memorable projects ever.
FUN FACT: Co-star Danica McKellar played Winnie Cooper in the well regarded "Wonder Years" with Fred Savage more than 30 years ago
Interested in hiring Beringar?
Please contact us to discuss how we can help you with your project!
Contact Us Today